After successfully introducing a new settings interface in Yoast SEO 20.0, the team at Yoast have more exciting news for users! They have built an integration with Mastodon, the decentralized and open-source social network that's similar to the more mainstream Twitter. Yoast SEO's Premium users can now verify the link in their Mastodon profile with this new integration. They're also adding your profile to the structured data that is generated for your site. Plus, they're improving the inclusive language analysis in Yoast SEO 20.1.
Mastodon is picking up steam
Since Elon Musk's takeover of Twitter, many people have moved to the popular open-source alternative known as Mastodon.
Mastodon is part of the growing fediverse (a combination of the words federated and universe). Unlike Twitter, it's a decentralized network of communities and platforms that are powered by open-source communication software. This provides an alternative to the more common centralized social media, ultimately giving users more control over their privacy and data. It also provides more options for people to join communities based on common interests and values they share.
Introducing a Mastodon integration to Yoast SEO 20.1
The Mastodon integration introduced in the new Yoast SEO Premium does two things:
It helps you verify the link to your site in your Mastodon profile
It adds your Mastodon profile to the sameAs structured data they output for your site
The integration allows users to verify the links on their Mastodon profile quickly and easily. Simply switch on the Mastodon integration in the plugin, add the URL of your profile in Yoast SEO, and add a link to your site on Mastodon itself. After that, refresh your Mastodon page, at which point it should show a green verified link in your profile.

The Schema structured data for Mastodon works automatically thanks to the plugin as well. After adding your Mastodon profile in the Yoast SEO settings, they add that link to the structured data graph that's generate for your site. They use the same sameAs links for other platforms as well. This makes it easy for search engines to identify all the other platforms you are active on.
This integration is part of their ongoing commitment to making content creation and distribution as seamless as possible for their users. Their values are aligned with Mastodon's focus on the open web, user privacy, free speech, and community building. So they're excited to offer this integration to their users. You can try it now by updating your plugin!
Also, an Easy Digital Downloads integration
In addition to the Mastodon integration, they've added an integration for the popular Easy Digital Downloads (EDD) WordPress plugin. They have improved Easy Digital Download's Schema output for this integration and tied it into the Yoast SEO schema graph. This makes the combination much more robust and easy to use. You can activate it in the Integrations section of your Yoast SEO settings.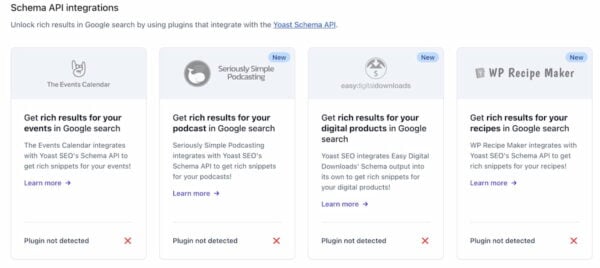 Improvements to the inclusive language analysis
Over the past few months, they've worked hard on making their inclusive language analysis as helpful as possible. In the Yoast SEO 20.1 release, they are releasing an improved version of their inclusive language analysis. This latest addition of SEO tools emphasizes the importance of using language that is inclusive, respectful, and free of bias to all your users.
Language is one of the most powerful tools that can be used for creating a more inclusive world. With the inclusive language analysis, they want to empower users to make a positive impact through their writing for the community.
Creating content that resonates with all audiences is essential. Especially in today's rapidly changing and diverse digital landscape. The inclusive language analysis provides you with real-time feedback on the language used in your content and offers suggestions to help you create more inclusive content.
If you haven't started using the new and improved inclusive language analysis, now is the time to try it out! Help create a more inclusive and respectful digital community for all to see.
Upgrade now to Yoast SEO 20.1
It was two weeks ago, they successfully launched the new settings interface in Yoast SEO 20.0. Reactions have been really positive! Roger Montti of Search Engine Journal said, "I've been practicing SEO for almost 25 years, and this version of Yoast is the easiest-to-use SEO plugin I've used to date."
After releasing the first piece of the puzzle, Yoast is excited to present you with more shortly. But for now, they're introducing Yoast SEO 20.1 with a new Mastodon integration and improvements to the inclusive language analyses for you to use on your website.